Total Bathroom Installations 

Call 028 9083 0543
Is your bathroom in need of a makeover?
Total Bathroom Installations have a solution.
The Complete Design, Supply and Fitting Service
Call us on 028 9083 0543 now for a home design appointment
Some people in our showroom love pictures and videos more than words. So we thought we'd make this lovely animated video, which takes you through the step by step process of having a beautiful new bathroom installed by our specialised fitters. 
We have fitted every type of bathroom you could imagine, so don't hesitate to tell us your dream bathroom, we'll either have installed it before or will love the challenge of creating something new or unique.
Why not get in touch today and arrange your free home consultation  
Total Bathroom Installations are one of Northern Ireland's leading and most experienced companies in bathroom installations. We offer a one stop shop for bathroom refurbishments. 
Total Bathroom Installations specialist fitters have a wealth of experience with nearly 3,000 full bathroom refurbishments completed since 2001. We have refurbished in a variety of different properties, from some of Belfast's Oldest Buildings, to some of Belfast's most modern apartment blocks. 
Experienced and Expert Bathroom Fitters
With over 3,000 completed bathrooms
Total Bathroom Installations have been designing, supplying and expertly installing bathrooms since 2001. With over 3,000 makeovers completed on time and within budget. We operate and have completed bathroom installations throughout the Greater Belfast area, including Lisburn, Carryduff, Carrickfergus, Antrim, Ballymena, Larne, Newtownabbey and many more.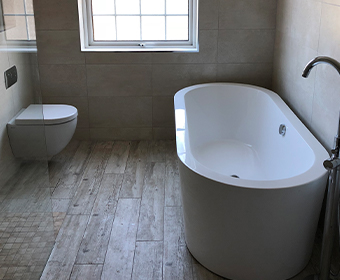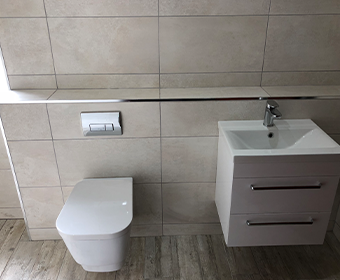 My wife had been finding it more and more difficult to get in and out of the bath, but before contacting Total Bathroom Installations I had never imagined our bathroom was big enough for a shower. let alone a walk-in shower with a drying off area and its own seat!
-Mr Martin, Belfast
All the workmen were very helpful and left the place spotlessly tidy every day. The disruption was absolutely minimal, and our new bathroom was completely finished in just 5 days.
-Mrs Clarke, Newtownabbey
They even took the old tiles off for us! Nothing was too much trouble. Having all the tiling, plumbing, electrics and building work done by the one company took away all the stress from the process and represented excellent value for money!
-David Mooney, Greenisland
Total Bathroom Installations had a professional and efficient manner from initial contact right through planning to installation and aftercare as well as a friendly attitude in all their dealings with us. We would not hesitate in recommending them to our friends and neighbours.
-Noel Simpson, Carrickfergus
We had been putting getting our bath taken out and a new shower put in for years as We were dreading the disruption. We need not have worried – TBI did everything they said they would do and with minimal disruption to our daily lives the whole thing was completed in just a week. I wish we had done it sooner!
-R Slade, Dundonald
After 6 years in the house, there was only one room we had yet to do. We initially chose Total Bathroom Installations to give our bathroom a much-needed makeover because a work colleague recommended them. After seeing the high standard of workmanship and quality of fittings supplied, we would have no hesitation recommending them to others
– David Eccles, Newtownabbey
Address
Total Bathroom Installations
13 – 15 Ballyclare Road
Glengormley
BT36 5EU
Northern Ireland
Email Us
info@tbini.co.uk
Opening Hours
Mon – Fri: 9:00 am – 7:30 pm
Sat: 9:00 am – 2:00 pm